If you have bleeding gums, bad breath or mobile teeth you could have gum disease. Smokers are particularly at risk.  A regular Hygienist clean will help prevent gum disease and do wonders for your overall health. 
Our Oral Health Therapist Krizzia thrives on treating difficult cases and offering advice for you to keep your teeth for life.  Gum disease has been linked to multiple systemic illnesses. Lately  heart disease has been linked with periodontal (gum) problems.  It's quite scary that approximately 50% of teeth are lost as a direct result of gum disease.  Krizzia can set up a maintenance regime that suits you, your teeth and your budget.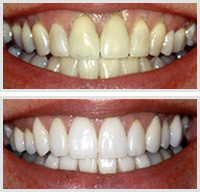 Amongst other treatments that Krizzia provides, she particularly enjoys bleaching teeth. Krizzia can take impressions and make up take home trays to whiten your teeth for special occasions or just take years of coffee, tea and red wine stains from your teeth.
Frequently Asked Questions
Can scaling damage your teeth?
Scaling is a procedure used to keep your gums healthy and firm. Tartar (calculus), if not removed by scaling, can cause infection and loosening of the teeth, ultimately leading to tooth loss. Scaling is a safe and routine procedure and does not damage the tooth surface in any way.
How often should you see your Hygienist?
If you have good oral hygiene habits and a healthy mouth, your dentist and dental hygienist will probably suggest professional teeth cleaning at least once a year. Many dental insurance policies will cover two cleanings per year, but few people take full advantage of their benefits.
Why see a Hygienist if my Dentist can clean my teeth?
Hygienists are trained specifically to thoroughly clean your teeth and gums.  This takes time and it is actually cheaper by the hour to see the Hygienist.  Your Dentist will usually only have time to do a quick clean when they do an exam. 
Contact us for more information or to book an appointment