You do not have to travel away to get quality cosmetic dentistry. Right here in the Bay you can have crowns, veneers and implants to correct your smile.


We are constantly researching and updating materials to provide you with all the options.


The wide array of treatment options can be quite daunting but rest assured we will go over every option available for you to make an informed decision.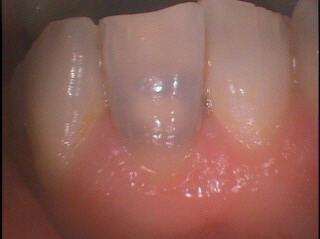 Prior to internal bleaching a non vital lower incisor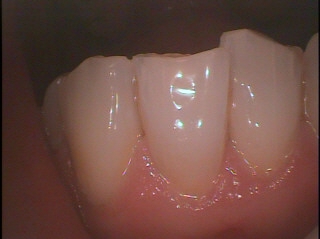 Frequently Asked Questions
What is a dental implant?
Dental implants have changed the face of dentistry significantly over the last 25 years. A dental implant, or tooth implant, is actually a replacement for the root or roots of a tooth. This means you can replace missing teeth permanently, and no-one will ever know! Like tooth roots, dental implants are secured in the jawbone and are not visible once surgically placed. They are used to secure teeth (dental crowns, bridgework or dentures) by a variety of means. Dental implants have the highest success rate of any implanted surgical device.
How is a dental crown different to a filling?
Dental crowns (sometimes called porcelain crowns) are cemented into place and fully cover the portion of tooth lying at or above the gum line, whereas fillings cover only a portion of your tooth. Dental crowns encase the entire aspect of your tooth, and effectively becomes the tooth's new surface. Crowns are used to restore a tooth to its original shape, to strengthen a tooth, or to improve its cosmetic appearance. Typically they are made of porcelain, hence the reference to porcelain crowns. The life expectancy of a tooth crown is anywhere between 5-15 years, depending on the stress of environmental factors such as chewing, biting, grinding or trauma.
What Cosmetic Dentistry services do you offer?
The Cosmetic dentistry services we offer mean you can be proud of having beautiful teeth. At Clive Square Dental we know how important it is to look your best, and your smile is one of your greatest assets.
Depending on your needs, we have a range of options which can improve your smile. Crowns, porcelain veneers, teeth bridges, dental implants and teeth whitening solutions are popular treatments with many of our clients. Perhaps you have a gap or two you'd like filled in, or maybe you want to reshape some or many of your front teeth. Whatever the scope of your needs, using the latest technology with a total focus on your dental care and comfort, we can help.
We also replace amalgam (the old mercury metal) fillings for more aesthetically pleasing white composite fillings. Your new ones simply blend in, giving you the appearance of a filling-free mouth. If you want it done, we can do it. Please feel free to discuss your dental needs with us when you're next in.
Contact us for more information or to book an appointment